Advanced Career Education Centers - @ Hermitage, Highland Springs and Randolph ...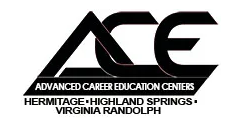 Current 8th grade students will have opportunity to apply for programs at the Advanced Career Education Centers.  Students will need to complete the information on the
Google form application
and submit it directly to the ACE Centers, by the deadline.  Students may apply for up to two career clusters that offer programs they are interested in.  If students are selected, they will be mentored during their 9th and 10th grade years, to prepare to take a program of studies at one of the ACE Centers during their 11th and 12th grade years.
Open House Date:
Online Applications open - October 2nd: 8th graders complete the "Class of 2028 ACE Center Application"

8th Graders - Apply to the CLUSTER you are interested in.  If accepted, you will meet with the ACE Center school counselor and/or ACE Center teacher during your 9th and 10th grade years and attend events and programs related to cluster.  In 10th grade, you will select the specific course (program) you want to attend.  If you select a dual-enrollment course, you will complete the necessary placement testing in the spring/summer before 11th grade (description of clusters and courses/programs is attached below)

Deadline to complete online applications - December 1st
Notification of acceptance email will come - February 2nd
Deadline to submit your intent - February 16th
April 2024 - 9th grade students will be added to a Schoology Group for the "ACE Center Class of 2028" (this group is used to communicate with the students about events that will take place during their freshman and sophomore years).